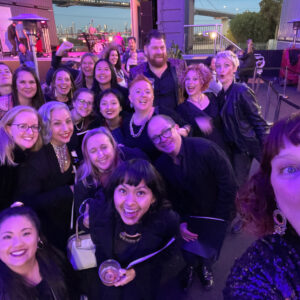 Led by the brilliant Katie Pryce, the Glee Westies rehearse in 10 week seasons towards a performance.
We rehearse on Tuesday nights from 7:15 – 9:15 in the band room at Kindred Studios in Yarraville. And we don't have tea break – we have Wine Time!
There are no auditions for Glee West – just a willingness to do a bit of practice.
It's no drama if you miss a week or two – we understand that we all live busy lives and so we zoom and record the sessions and give you lots of resources so you can sing at home and catch up.
New season starting January 24!
Dates: January 24 – March 28
Rehearsal times: 7:15 – 9:15 Tuesdays
Where: Kindred Studios, 2 Harris Street Yarraville
Cost: $300 which you can pay all at once or in instalments
Or come along and give the first session a go for just $10!
Looking ahead, here's a rough idea of the dates for the rest of 2023 (although we sometimes need to make changes due to gigs etc)
Term 2: April 18 – June 27 (no rehearsal on Anzac Day) with a trip to Festival of Voices in Hobart June 30 – July 2
Term 3: July 11 – Sept 12
Term 4: October 3 – December 5 (no rehearsal on Melbourne Cup Day)
"Loved the trial session. What a welcoming warm bunch of people. Great venue and Katie was an absolute joy, wonderful energy and sense of humour. Glad to have found you." – Chris, October 2022
"I gave my first Glee West session a go on Tuesday. I've been wanting to join a choir for many years (lots of talk and not much action) but found the whole idea overwhelming. This is such a welcoming and warm group that made me feel instantly comfortable. Katie is an absolute joy and has great energy!" – Jennifer, Feb 2022
"The balance of joy and community alongside performance and practice is just right and the thankfulness is visible at every turn. And it's fun. And it's inspiring. This is rare, this is gold." – Olivia, Dec 2022