Our singalongs are what Glee Club is all about!
Our motto is "you do you": there's never any commitment to come again, there are no solos or auditions and you can hold your drink while you sing!
Each session runs for an hour and fifteen and includes a bunch of songs by the artist being celebrated as well as some trivia and lots of laughs. You don't need to prepare anything or even know the artist particularly well – we give you all the tools you need to have a fantastic night of singing.
Here are all the sessions coming up:
Hobart
Monday December 5 and 12 at 6:30pm at Irish Murphy's
$15
We're celebrating a fantastic year at Glee Club in the best we know how – by singing all our favourite not-quite-Christmas songs!
We're talking Last Christmas, any songs that take our fancy from Love Actually and anything else vaguely Christmassy that we think up or you suggest.
Stick around afterwards for a bite to eat and to raise a glass of bubbles to a year of wonderful singing!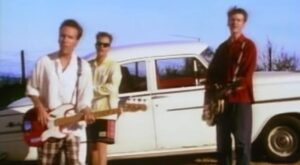 Point Cook
Wednesday December 7 at 7:30 pm at Sanctuary Lakes Hotel
$17
We'll be bringing the weather with us when we host a huge singalong of Crowded House tunes to finish off the year in Point Cook.
Come along, grab a meal and a glass of wine and join in with the singalong that will leave you feeling great! It doesn't matter if you've never been to Glee Club before (or never sung before!) – we make it easy and fun for everyone to join in.

Bayside
Thursday December 1 at 7pm at Brighton Beach Bowls Club
$25 (ticket price includes a drink)
It's the first day of summer and so we're singing The Beach Boys!
Wear your best Hawaiian shirt and get ready to sing those famous harmonies in the songs we know and love.
Bring or a posse or come on your own – we know you'll leave with a smile on your face and a tune stuck in your head!
Geelong
Sunday November 27  at 5pm at Beav's Bar
$17
It's our last Geelong Glee Club for a little while and we are taking the year out on a high with one of the great bands of all time – Fleetwood Mac!
With Vicky Jacobs on the keys this promises to be an afternoon that will leave you on a high. And we'll be finished in time to hit up Little Malop St for some dinner!
For all of our singalongs, if you feel unwell at all on the day, please don't come along. Just let us know and we'll happily refund your ticket.