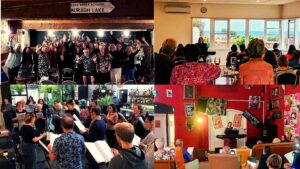 Our singalongs are what Glee Club is all about!
Our motto is "you do you": there's never any commitment to come again, there are no solos or auditions and you can hold your drink while you sing!
Each session runs for an hour and fifteen and includes a bunch of songs by the artist being celebrated as well as some trivia and lots of laughs. You don't need to prepare anything or even know the artist particularly well – we give you all the tools you need to have a fantastic night of singing.
Here are all the sessions coming up:
CBD Glee Club sings The Beatles
Hobart Glee Club sings Olivia Newton-John
Yarraville Glee Club sings ABBA
For all of our singalongs, if you feel unwell at all on the day, please don't come along. Just let us know and we'll happily refund your ticket.