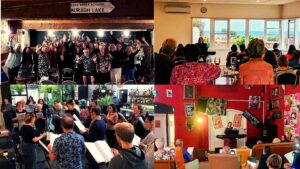 Our singalongs are what Glee Club is all about!
Our motto is "you do you": there's never any commitment to come again, there are no solos or auditions and you can hold your drink while you sing!
Each session runs for an hour and fifteen and includes a bunch of songs by the artist being celebrated as well as some trivia and lots of laughs. You don't need to prepare anything or even know the artist particularly well – we give you all the tools you need to have a fantastic night of singing.
Here are all the sessions coming up:
Celebrating Judith Durham and The Seekers at CBD Glee
Tuesday Sept 13  at 7pm at Fringe Common Rooms
With the loss of one of our great Australians, we think it's the perfect moment to celebrate Judith Durham and The Seekers in the best way we know how – through singalong!
So come along for an evening of harmony and raise a glass to one of the greats.
Geelong Glee Club celebrate Judith Durham and The Seekers
Sunday September 18  at 5pm at Beav's Bar
It's Geelong's turn to pay tribute.
With Vicky Jacobs on the keys this promises to be a gorgeous evening  of harmony and a chance to raise a glass to one of the greats. And we'll be finished in time to hit up Little Malop St for some dinner!
Book for Geelong Glee Club here
Bayside Glee Club sings Elvis
Thursday September 22 at 7pm at Brighton Beach Bowls Club
A well-a bless my soul, it's time to sing some Elvis in Brighton! We're putting together an hour of Elvis classics that will have your hips swinging and your knees knocking.
Your ticket includes a drink at the bar and we always leave you with a smile on your face and a tune stuck in your head!
Book for Bayside Glee Club here
Hobart Glee Club celebrates Judith Durham and The Seekers
Monday October 3 at 6:30pm at Irish Murphy's
It's Hobart's turn to pay homage to one of our nation's great voices and the band that taught so many of us how to sing in harmony!
You'll need to book early for this one as seats are limited and in hot demand (well, who wouldn't want to spend an evening making music with the incredible Amanda Hodder?!)
Book for Hobart Glee Club here
Point Cook Glee Club sings Queen
Wednesday October 5 at 7:30 pm at Sanctuary Lakes Hotel
We are so excited to be launching a brand new Glee Club at Point Cook!
And what better way to kick things off than with a singalong of Queen songs – we're talking Bohemian Rhapsody and much much more!
So grab a ticket early so you can tell people you were at the inaugural Point Cook Glee. We know you'll love it!
Book for Point Cook Glee Club here
Yarraville Glee Club sings Joni Mitchell
Thursday October 20  at 7pm at The Vic Hotel, Yarraville
She's one of the iconic singer-songwriters of our time and we can't wait to sing her stunning lyrics and floaty melodies (with a glass of wine in hand of course!)
Hosted by the Queen of Glee West, Katie Pryce we know it will be a singalong that will leave you with a smile on your face and a tune stuck in your head!
Come along early or stick around after to enjoy one of the Vic's fabulous meals.
Book for Yarraville Glee Club here
For all of our singalongs, if you feel unwell at all on the day, please don't come along. Just let us know and we'll happily refund your ticket.