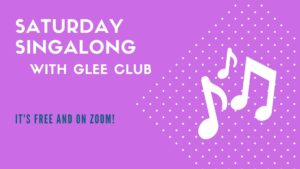 Online singalongs – more fun than you think!!
This Saturday June 12, Vicky Jacobs is going to run a mini singalong on zoom to lift your spirits and leave you feeling great! No need to prepare anything – just switch your computer on, your microphone off and warn your neighbours you'll be making some noise!
We'll be online at 3pm for about half an hour and guarantee laughs and fun times. And it's free! Just register here to grab the zoom link.
And if you need a bit more singing in your week, Katie Pryce will be running our Glee West session online Wednesday June 16 from  7 – 9. It's just $10 to give it a go and we're singing lots of fab wintery songs – rug up on the couch, pour a glass of red and join in!
You can read about the whole season here but we're really happy for you to come along for a sing even if you can't commit to the whole lot. Your microphone will be off so it's not scary at all. In fact it's a heap of fun: you'll meet some great people and you'll get a feel for how Glee West (and Glee Plus) work without having to leave your house! You can register here.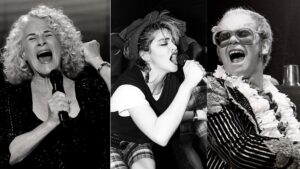 Big week of singalongs July 6, 7 & 8
We have a huge week of real life singalongs for you in the first week of July!
On July 6 we have our Elton John singalong at Fringe Common Rooms (Trades Hall) in the CBD. Hosted by Chelsea Plumley this will be a riotous hour and a bit of tunes, trivia and rocketing good times! You can book here.
On July 7 we are celebrating our old mate Madge with a huge night of Madonna tunes at the Vic Hotel in Yarraville. This one will be hosted by Katie Pryce who is bursting at the seems to teach you all how to Vogue! You can book for Madonna night here.
And on July 8 we've got our Carole King singalong at Brighton Beach Bowls Club with Chelsea Plumley making the earth move under your feet! This was rescheduled from June 17 – if you have already bought a ticket it will automatically be transferred to the new date. If you can't make July 8, just drop Vicky a line here for a refund. There are only a handful of tickets left, but if you'd like one click here.
Bayside Glee is also on sale for:
For all of our events, we are all about creating safe spaces to sing in so if you feel unwell or uncomfortable at all on the day, simply drop us a line and we'll happily refund your ticket.