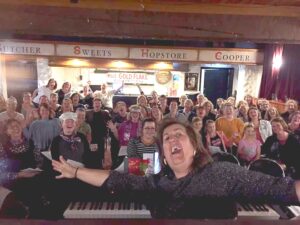 We're making some exciting changes at Hobart Glee Club!
We love our themed singalong nights and we know you do too!
Our next singalong will be on Monday March 1 celebrating the Carole King! There are still some tickets left so click here to grab one.
After that, we're not going to be running every Monday night, we'll just do our theme night singalongs once a month. You'll be able to find dates and details on our Facebook page or the web page.
But don't despair! If you need your weekly Glee fix with the wonderful Amanda Hodder, we are launching a brand new group on Thursday evenings. It's called Glee Plus and it's for those of you who'd like to practice some songs over a few weeks and then give a performance for your family and friends.
You don't need to have ever been in a choir before, you don't need to be able to read music or know what vocal part you're singing. We will help you out with lots of tools and resources to make it fun and easy while sounding fantastic. We don't even mind if you need to miss a week or two – we know Gleebers live busy lives and we like that! Each week we'll drop you an email with what happened in the last rehearsal and you can run your own Glee session at home with the practice tracks we provide.
Our first session is on Thursday Feb 11 and will be free – all you need to do is let us know you're coming by filling in the form below.
We'll be working towards a performance on Easter Saturday – we can't announce exactly where it is yet but we'll be able to soon and we know you'll love it!
Here are all the details:
Dates: Feb 11 – April 1
Times: 6:30 – 8:30 (with a break for wine time around 7:30!)
Location: Irish Murphy's in Salamanca Place
Performance: Saturday April 3 late morning (TBC)
Cost: First week free. Then $250 which includes all your music, practice materials and the performance. No hidden costs or extras.
If you have any questions, thoughts or ideas, just drop Vicky and Amanda an email here. Hoping to see lots of you for a sing this Feb!