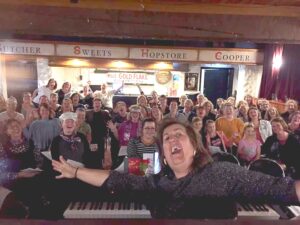 Hobart Glee Club get together every Monday night at 6:30 at Irish Murphy's at Salamanca Place and never fail to have an excellent time!
There's no commitment, no auditions and no solos – just grab yourself a ticket and rock up for a big group sing with a drink in hand.
Hobart Glee Club is hosted by the multi-talented and always welcoming Amanda Hodder.
We're getting out and about and giving a mini-performance to help spread the Christmas cheer this December. We'll be well-spaced-out at Farmgate Market on Bathurst St on December 20 at 10:30am and we'd love you to join in the fun!
All you need to do to get involved is come along the next 3 Monday night singalongs (or at least a couple of them) to learn our special Gleeful brand of Christmas songs.
You also need to quickly register here so we know who's coming along on the day.
And if performing is not your thing, that's totally fine! We'll still have a ball singing our silly Christmas songs on Mondays with lots of laughs and a drink or two. Why not bring those buddies you've been meaning to have a Christmas catch up with and make it a memorable one this year?!
Here are the booking links for our Christmas Glees and you can also buy tickets at the door using a card (if we're not sold out.)
Monday November 30
Monday December 7
Monday December 14
If you're unwell on the day, have no hesitation in dropping us a line and we'll happily refund your tickets.
Don't forget to grab a drink from our friends at Irish Murphy's as you head in to sing – and maybe even stick around for a meal after!