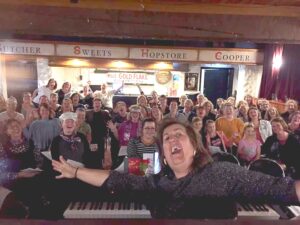 Hobart Glee Club get together every Monday night at 6:30 at Irish Murphy's at Salamanca Place and never fail to have an excellent time!
There's no commitment, no auditions and no solos – just grab yourself a ticket and rock up for a big group sing with a drink in hand.
Hobart Glee Club is hosted by the multi-talented and always welcoming Amanda Hodder.
November is Aus Music Month at Glee and we're celebrating a different decade each week!
November 2 – 70s singalong
November 9 – 80s rockers
November 16 – 90s singalong
November 23 – The Noughties
It's best to book online as our numbers are strictly limited so use the links above and bags yourself a ticket. If you feel unwell in any way on the day, just drop us a line on email or Facebook and we'll happily refund your tickets. If there are tickets available on the day, we will be offering door sales (we'll just need to grab some contact info from you) so check the Facebook page and we'll let you know if we're sold out or not.
And don't forget to grab a drink at the bar from our friends at Irish Murphy's and their meals are great too if you'd like to stick around!