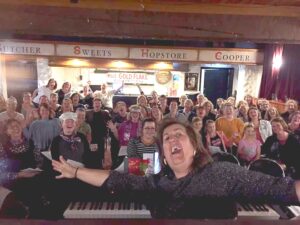 Monday nights are singalong nights in Hobart!
You'll find the incredible Amanda Hodder at the keyboard and ready to lead you in song every Monday at 6:30 at Irish Murphy's in Salamanca Place.
It doesn't matter if you've never sung in a group before – this is the singalong where you don't have to commit, you don't have to audition and you can drink as much as you like while you sing!
We love it if you book online as our numbers are limited at the moment but you can always try your luck and rock up a few minutes before 6:30 to grab a drink and a ticket at the door. If you've booked  a ticket and feel unwell on the day, just drop us a line and we'll happily refund.
Join us on June 7 for an epic Moulin Rouge singalong! We'll be singing all of our favourite songs from one of our favourite movie musicals and we'd love you do join in – come what maaaaaaay! Grab a ticket here.
Then we're taking Queen's birthday long weekend off but you can book for June 21 and 28 here or just rock up and grab a ticket at the door!
And stay in touch with all things Hobart Glee Club by liking our Facebook page where we share upcoming events and lots of fun stuff to brighten up your newsfeed.