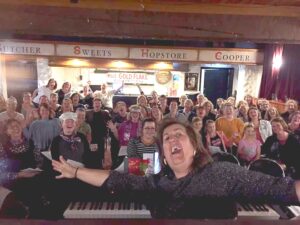 Hobart Glee Club get together every Monday night at 6:30 at Irish Murphy's at Salamanca Place and never fail to have an excellent time!
There's no commitment, no auditions and no solos – just grab yourself a ticket and rock up for a big group sing with a drink in hand.
Hobart Glee Club is hosted by the multi-talented and always welcoming Amanda Hodder.
We are back for 2021 on January 11 with a big sing of Michael Bublé's biggest hits that we guarantee will leave you feeling good! You can grab a ticket here.
We've also got an epic Beach Boys singalong night planned for Feb 1 – grab your tickets here.
And we'll be singing our favourite summer tunes every Monday at 6:30 at Irish Murphy's. Tickets to come along and join in are here.