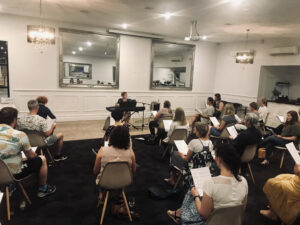 Glee Club goes West Side!
Led by the brilliant Katie Pryce, our Westies rehearse in 10 week seasons towards a performance but we also like to throw in a no-commitment singalong from time to time as well!
We've got a new season of Glee West kicking off on June 9 and running through until August 29 with a gorgeous morning tea performance at Lemur Lodge at The Melbourne Zoo.
There are no auditions for Glee West – just a willingness to do a bit of practice and work towards a performance. It's no drama if you miss a week or two – we send out an email each week and give you lots of practice materials so you can sing at home and catch up.
You can sign up here for the whole season or come along and give the first week a go for just $10 before deciding if it's for you.
Here are all the details:
Dates: June 9 – August 25 (with a break for school hols on June 30 and July 7)
Rehearsals: 7 – 9pm Wednesdays at The Vic Hotel in Yarraville (including a 15 minute break for wine time!)
Performance: August 29, 11:30am at The Melbourne Zoo (tickets available soon!)
Cost: $300 which you can pay up front or in instalments that suit you. And you can give the first week a go for just $10 before deciding if you'd like to go ahead.
To register for this season of Glee West, fill in this quick form here.
And if you'd like to see Glee West in action, you can come see us perform at Grazeland for free on May 23 at 5:45 pm.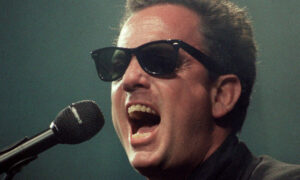 Billy Joel singalong – June 2
If you can't commit to a whole season but still would love a sing, come along and boogie with us on June 2.
We'll be singing all our favourite Billy Joel hits. There will be no solos, no commitment to come again and you can drink as much as you like while you sing!
We'll be at The Vic Hotel on Hyde Street Yarraville from 7 – 8:15. Tickets are limited for this one so book ahead here.