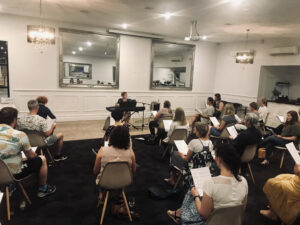 Glee Club goes West Side!
Led by the brilliant Katie Pryce, our Westies rehearse in 10 week seasons towards a performance but we also like to throw in a no-commitment singalong from time to time as well!
There are no auditions for Glee West – just a willingness to do a bit of practice and work towards a performance. It's no drama if you miss a week or two – we send out an email each week and give you lots of practice materials so you can sing at home and catch up.
We're currently in the middle of a season and working towards a performance so you'll need to hold off until the next season starts to come along and give it a go. But you can come see them perform in a gorgeous morning tea performance at  The Melbourne Zoo on August 29. Click here for all the details.
And make sure you're on the mailing list so you get all the info when our next season launches (just look to your right or scroll down to sign up). And come hang out at the Glee West Facebook group.

Billy Joel singalong – Sept 1
Okay piano men and uptown girls, after a postponement due to lockdown we are bringing Billy back and singing all our favourite tunes at The Vic Hotel and we'd love you to come and join in.
This is one of our famous drop-in singalongs: there's no commitment to come again, there are no solos and you can drink as much as you like while you sing.
If you feel unwell at all on the day, just drop us a line and we'll happily refund or transfer your ticket.
We'll be at The Vic Hotel on Hyde Street Yarraville from 7 – 8:15. Tickets are available here.