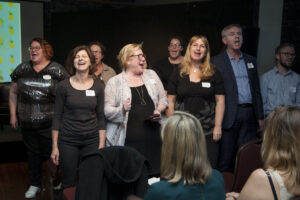 There's nothing like a pandemic to really make you think about the things you love in life.
This week, I've been really aware of how much I love songs. Not just music in general but specifically songs. I love how they can express what you're feeling in a moment even if the song wasn't written about that moment. I love how they can start a party in your kitchen. I love how, when combined with a cup of tea, they can take you from anxiety to calmness. 
They're so powerful that when Glee Plus get together on zoom to learn a new song that even though we can't hear each other, to hear the music and to see each other mouthing the words at (roughly) the same time, we still get the reflection of the experience of singing all together.
I'm loving the Spotify playlist that was assembled by the Gleebers during Lockdown 1.0. We had a challenge to think of a different song every day in categories such as "songs to play on a roadtrip" and "songs that remind you of being 15". That playlist is eclectic and hilarious and brilliant to put on when you're sick of doing housework but it has to be done anyway. (Click here if you'd like to check it out.)
Facebook has been a great connector for me during this time and I've really enjoyed sharing singalong songs on our Facebook page. It's a comforting thought that even though Glee Club isn't getting together at the moment, we're all singing away in our lounge rooms and looking forward to the time we can sing together again. 
And I'm loving Song Club which is the online session I've been running on a Monday night to learn and share solo songs with each other. The fact that we celebrate the songs as well as celebrating the different voices singing the songs has made it truly joyous and inspiring. Song Club has become a highlight of these weird old weeks for me – not to mention the handy attribute of making me notice when the weekend has finished and the week has begun! As the song says, "does anybody really know what time it is?"