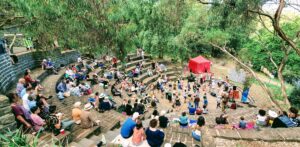 I've been slow to write this blog because it's much more fun to write about the good stuff that's happening and not the hard stuff – and the last week or so has been a bit hard.
After a super successful first try at our online/real life version of Glee, we then had to cancel our next session because the COVID19 numbers suddenly spiked here in Melbourne. So now we're back in lockdown (although I have to say I've fallen back into the routine of walking the dog and baking too much very quickly!)
We've also had to postpone our performance for Glee Plus which we've been working towards. But we have been having such a great time in our zoom rehearsals, we've decided to keep catching up and having a zoom-sing every Saturday until such time as it's safe for the 32 of us to be in the same place singing together. We can't wait to hear how these beautiful harmonies we've learned sound all together and will find a way to share it with an audience. I'm so sure when the time comes it will be a super special performance and certainly a season of Glee Plus we'll never forget. I've been so grateful for their friendship and support over this time – and the laughs we have on a Saturday afternoon!
I need to keep reminding myself there still is plenty of good news. The virus is eradicated in Tasmania and they're keeping their borders shut so we've been able to safely relaunch Hobart Glee Club. We are already completely sold out for every Monday in July – it seems people have been missing singing! And we're chatting to some friends in Adelaide about starting Adelaide Glee Club in the not-too-distant future (with our fingers crossed that the virus stays eradicated there too).
I'm still determined to celebrate Glee Club's 15th birthday so have booked the stunning Fairfield Amphitheatre for Sunday December 6 so we can all sing together outdoors next to the beautiful Yarra River. Pop it in your diary! It's so great to have something to look forward to – bring on December!