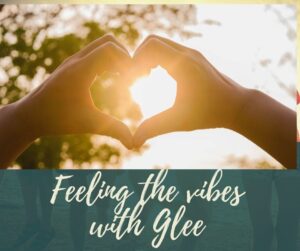 When my husband goes out to the shops he likes to return with a report on the "vibe" of the place. For a long time it was "anxious" or "uptight", then 2 or 3 weeks ago it turned to "bored" and "over it". But this weekend something has changed here in Melbourne. The vibe is more "refreshed" and "optimistic" (at least in our little corner of the town). The sun is shining and we can see the pathway to a summer that involves sitting on beaches and seeing our family and friends, even if it's mostly for picnics!
I've seen this play out in our zoom choir sessions too. One week ago I came away from our sessions still with a smile on my face, but feeling a little flat. This week I have felt the energy coming from 50 individual faces radiating back at me and I left feeling ready to take on the world. 
So it's planning time here at Glee HQ!  It looks like being an outdoor summer. While it hasn't been the 15th birthday year we (or anyone) planned, it's looking good for us to be able to have a sing together outdoors at Fairfield Amphitheatre on December 6. 
And I am busily contacting lots of councils so we can have a series of Sunday afternoon sings all around Melbourne (and maybe even beyond) over January and February. After being stuck in our 5km zones I think we'll all love the chance to rediscover corners of our beautiful city we've forgotten about and what better way to reconnect with the places and each other than by singing pop songs and show tunes together?!
Bring on summer, I say!