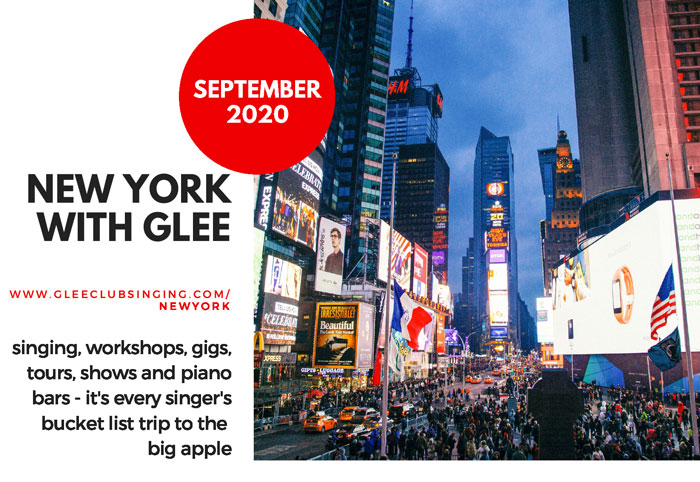 Postponed: no prizes for guessing why.
We've got tentative dates penciled in May 25 – June 2, 2021. If you missed out last time, we think there will be a few spots opening up that you can snaffle. Put the dates in your diary and make sure you're on the Glee Club mailing list so you can be first to jump on board. 
If you're a lover of singing then you'll want to come to New York with us!
We've put together the trip to New York that will be on every singer's bucket list.
Get together with a group of like-minded music enthusiasts to take on the Big Apple for 8 days and nights in September 2020.  Every morning we'll sing together leading up to a performance under the direction of Vicky Jacobs (you can read all about her here) and spend the afternoons and evenings doing workshops, masterclasses, tours, gigs, seeing Broadway shows and (most importantly) hitting up the piano bars with a group of travel companions who will join in the song!
You don't need to be an accomplished singer or read music to participate.  You just need to be willing to open your mouth and join in.  We won't make you audition or sing solo (although there will be opportunities for solo singing if you want to).  You don't need to already be a part of Melbourne's Glee Club – we'd love to have singers and enthusiasts from all over come and enjoy this experience with us.
Every morning we'll step out from our midtown hotel and wander up to Open Jar Studios which look out over Times Square.  There, we'll sing as a group for the morning putting together a fun program of pop and show repertoire to perform at the end of our eight days together. In the afternoons we'll have a workshop, masterclass or maybe do a tour.  And in the evenings we'll head out to a musical, gig or piano bar. Every other day, you'll have a good chunk of free time so you've got time to explore the areas of New York that are on your to-do list.
Dates
September 9 – September 17, 2020 (arrive in New York September 9 and check out of the hotel on September 17)
Cost
$4600 (not including airfares but read on to find out about the deals we'll be able to get for you)
What it includes:
8 nights accomodation twin share (single supplement available if you don't want to share a room)
6 singing rehearsals
A singing performance at an iconic New York location (we'll make a video so you can show your friends!)
2 Broadway shows
2 vocal workshops – one group workshop and one with the opportunity to work on solo repertoire with a Broadway performer
A mix of gigs, piano bar nights and tours (sometimes we'll even be able to offer behind-the-scenes special experiences)
All breakfasts
Some lunches and dinners
Airport transfers
What if my partner/friend/mum wants to come along but not do the singing bit?
No problem!  We're also putting together a Companion's Package which will include accomodation and the same shows, gigs and tours as the singers PLUS a couple of other activities and experiences to help really make the most of their time in New York.  The cost for the Companion's Package is $3420.
Airfares
You are welcome to book your own airfare but we'd love to encourage you to book with our travel agent partner.
We will be able to access a discounted group booking airfare for all passengers leaving Melbourne on Wednesday September 9.  There would then be some flexibility with when you return to Melbourne as we understand that lots of you might want to stay on in New York for a little longer or even add another destination on to your travel.
Payments
Bookings open September 2, 2019.  Payments will be made in 3 stages between September 2019 and June 2020. Fill in the expression of interest form below and we'll send you a complete breakdown of payments and lots more info on all the nitty-gritty stuff like insurance and visas.
Questions?
No worries!  Just email Vicky Jacobs at glee.club@optusnet.com.au